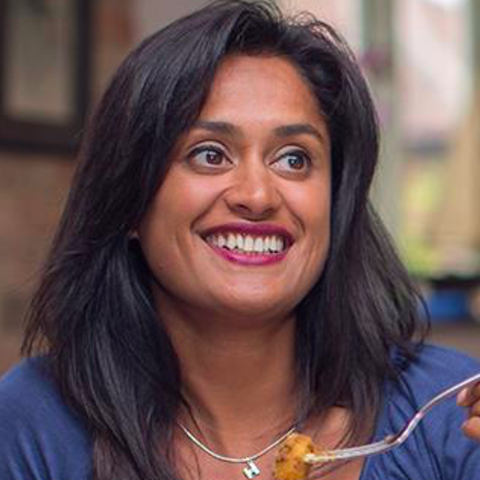 Ok you guys I have put this recipe together - it's still work in progress but I thought it would make a great #recipeoftheweek
Here is my Indian Style Shakshuka. You can cook this just with tomatoes or you can make it more hearty with minced lamb or vegetarian with chickpeas. All the details are below so you can give this, hot off the press recipe a go - it's not even on the website yet!
Will you be cooking it?
Recipe for 4 to 6 people
INGREDIENTS
2 tbsp rapeseed oil
1 tsp cumin seeds
1 large onion, finely diced
1 large red pepper, chopped
1 tsp sea salt
3 cloves garlic, minced
2 tbsp tomato puree
1 tsp Kashmiri chilli powder
1 tbsp ginger, grated
1 green chilli, chopped
½ tsp turmeric
400g tinned tomatoes
2 tomatoes, cut into chunks
2 tbsp fresh coriander, chopped
200g minced lamb (optional) or 200g tinned chickpeas
50g paneer, crumbled
black pepper, to taste
chilli flakes to garnish
5 to 6 large eggs
Crusty bread or naan for serving
INSTRUCTIONS
1. Preheat the oven to 190C. Warm the oil in a large, oven-safe, cast iron pan, over a medium heat.
2. When oil starts to shimmer, add the cumin seeds and as they become fragrant add the onion and stir on a high heat. Reduce the heat and cook until they start to turn golden.
3. Add the garlic and saute then add the red pepper.
4. Add the tinned tomatoes and chopped tomatoes then add the ginger, chopped chilli, chilli powder, turmeric, salt and half the coriander. Stir, and let the mixture come to a simmer until it reduces and thickens (about 10 minutes.)
5. Add the minced lamb/chickpeas (if using) and cook through, leave to simmer until it's cooked.
6. Stir in the tomato puree simmer until its reduced and thick (1 to 2 minutes).
7. Turn off the heat and use the back of a spoon to make a well near the outer edge of the pan and crack the egg directly into it. Repeat with the remaining eggs.
8. Crumble in the paneer over the top and sprinkle a little salt and pepper over the eggs.
9. Carefully transfer the pan to the oven and bake for 8 to 10 minutes.
10. Once the egg whites are opaque and the yolks have risen a little but are still soft the dish is ready.
11. Remove from the oven top with the fresh coriander leaves, and a few chilli flakes,
12. Serve in bowls with crusty bread on the side.
image: chefs kitchen
22 comments,
0 shares,
18 likes