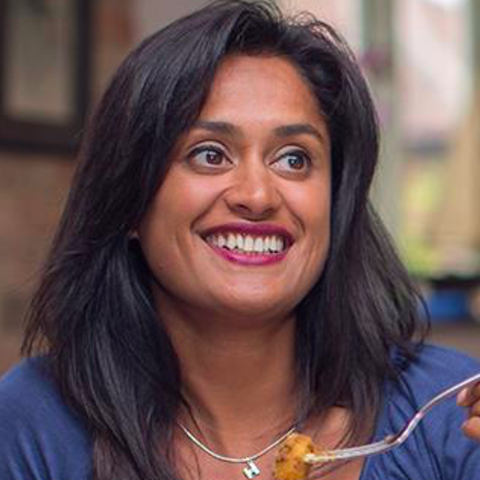 Who knows what a bunny chow is? Well it's a dish from Durban made with Indian influences that is served in a hollowed out bowl made of bread. I've tried a few in my time and the flavour is distinctly different to a traditional 'Indian' curry in that it's usually made with curry powder. They are delicious but I thought I would give it a go and add my own little twist. So here it is my very own - Indian bunny chow! I would love to hear what you think of it so who is going to try it?
Indian Lamb Bunny Chow
Ingredients
1kg lamb neck fillet/leg
1 tbsp rapeseed oil
7cm piece cassia bark
6 green cardamoms
4 cloves
1 tsp fennel seeds
1 bay leaf
10 curry leaves
1 large onion, finely diced
6 cloves garlic, minced
1 tbsp white vinegar
2 tsp sugar
1 tbsp crushed ginger, grated
2 green chillies, chopped finely
½ tsp turmeric
1 tsp garam masala
1 tsp Kashmiri chilli powder
1 tsp cumin seeds, ground
1 tsp coriander seed, ground
1 tsp salt or to taste
2 tomatoes, blended
5 small to medium potatoes, quartered
chopped fresh coriander
4 medium crusty buns
Method
1. Heat oil in pot. Add cassia, cardamom, cloves, bay leaf, fennel seeds and stir until fragrant.
2. Add curry leaves, and then the diced onion. Cook for 15-20 minutes until golden brown
3. Add the garlic and cook for 3-4 minutes.
4. Stir in the vinegar and sugar
5. Stir in the ginger and chopped chillies.
6. Add the turmeric, garam masala, Kashmiri chilli powder, crushed cumin and coriander.
7. Stir in the meat and salt and coat the meat with the spices.
8. Cover and cook on a low heat for 20 minutes. Stirring occasionally.
9. Add the potatoes and cook for another 20 minutes before adding the chopped tomatoes.
10. Leave for another 20 minutes until the meat is tender and the potatoes are soft.
11. Remove from the heat and stir in the chopped coriander.
To assemble the bunny
1. Hollow out the inner, keep intact. Scoop into the bunny and serve with tomato kachumber, onion rings, hot fresh chilli and yoghurt on the side
14 comments,
4 shares,
18 likes