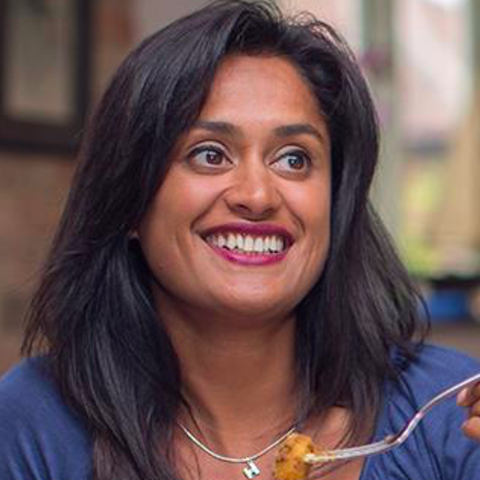 #StayHome and cook along #WithMe
For VE Day this #FridayCurryClub I will be cooking the nations favourite dish - the chicken tikka masala!
Here is the link for the LIVE #Fridaycurryclub on YouTube https://youtu.be/1A4vs-ywR4Y
Set a reminder and join me at 6.15pm BST on Friday 8th May - it will take about an hour and you can just watch, cook along, ask me questions and have a giggle cooking with 100's of people from across the globe.
If you want to cook along this is what you need. If you want to cook a veggie option try soya, paneer, mushrooms, peppers or aubergine.
Full recipe is here too - https://www.harighotra.co.uk/chicken-tikka-masala-recipe.
Who will be joining me?
Ingredients:
6 chicken thighs, skinned and cut into chunks
Optional
½ pepper, chopped into large chunks
½ onion, chopped into large chunks
1 tomato, chopped into large chunks
Marinade
½ tsp salt
1 tsp chilli powder
1 tsp coriander seeds, crushed
3cm piece ginger, minced
3 cloves garlic, minced
3 tbsp Greek yoghurt
1 heaped tsp dried fenugreek (kasoori Methi)
Juice of 1 lime
2 tbsp mustard oil, to cook
Masala Sauce
1 tbsp oil
5cm stick cassia bark
3 green cardamoms
2 bay leaves
3 cloves
1 tsp cumin seeds
1 large onion, minced or very finely diced
3 garlic cloves, minced
1 tbsp ginger, minced
1 or 2 green chillies, minced
2 tsp cumin seeds
2 tsp coriander seeds
3 fresh tomatoes
1-2 tbsp cashew nuts (any nuts you can have)
1 tsp salt
½ tsp turmeric
1 tsp chilli powder
1 tsp dried fenugreek leaf (kasoori methi)
100ml double cream
Handful fresh coriander, chopped
23 comments,
3 shares,
22 likes