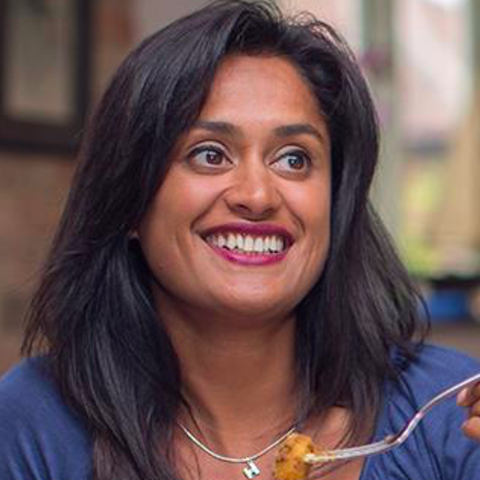 Yipeee it's almost time for this weeks #fridaycurryclub and we are going to be making one of my favourites - Chole Bhatura!
This is a tangy chickpeas dish cooked in a tea then placed in a spicy masala laced with tamarind.
The bhatura is a leaved bread that is super soft and goes hand in hand with these spiced chickpeas.
It's the ultimate brunch dish served with sliced chillies and sliced red onion and I will show you how!
Join me here https://youtu.be/rCbSCRQL5CY
at 6.15pm BST on Friday to watch. If you want to cook along this is what you need:
Ingredients:
Chole
400g tin of chickpeas
2 black teabags in mug with boiling water poured over
5cm piece tamarind, soaked in about 100ml boiling water
1 tbsp ghee
1 tsp cumin seeds
2 medium onions, thinly sliced
4 cloves of garlic, sliced
4cm piece ginger, grated
2-3 green chillies, sliced lengthways
400g tin of plum tomatoes
1 tsp Kashmiri chilli powder
1tsp turmeric
1 tsp coriander seeds, crushed
2 tsp cumin seeds, crushed
½ tsp black salt
Salt to taste
½ tsp garam masala
1 tbsp lemon juice
1 heaped tsp amchoor / chaat masala
Fresh coriander, roughly chopped for garnish
Bhatura
250g self-raising flour, sifted
1 tsp yeast
1 tsp sugar
Pinch of salt
2-3 tbsp yoghurt
milk
Check out my website for the full recipe -
https://www.harighotra.co.uk/chole-bhatura-recipe
Shout if you have any questions!
I'm so excited - will you be joining me?
28 comments,
3 shares,
17 likes